We continue to get acquainted with interesting, bizarre and outlandish fruits from all over the world, which amaze not only with their unusual shape, but also with their specific smell and piquant taste.
Lodoicea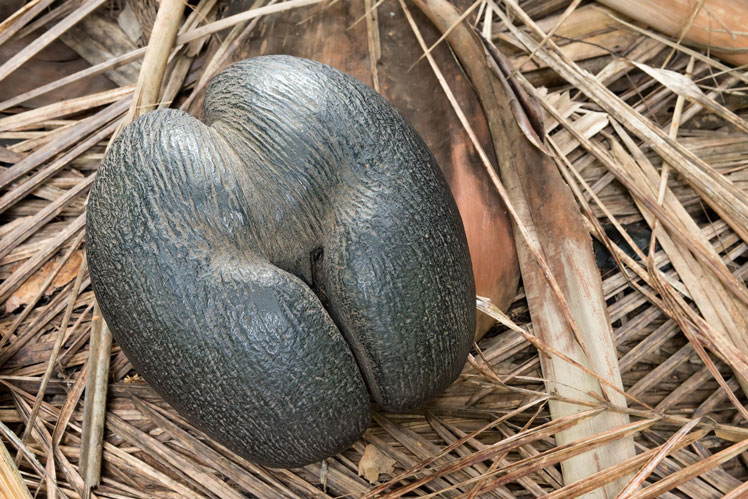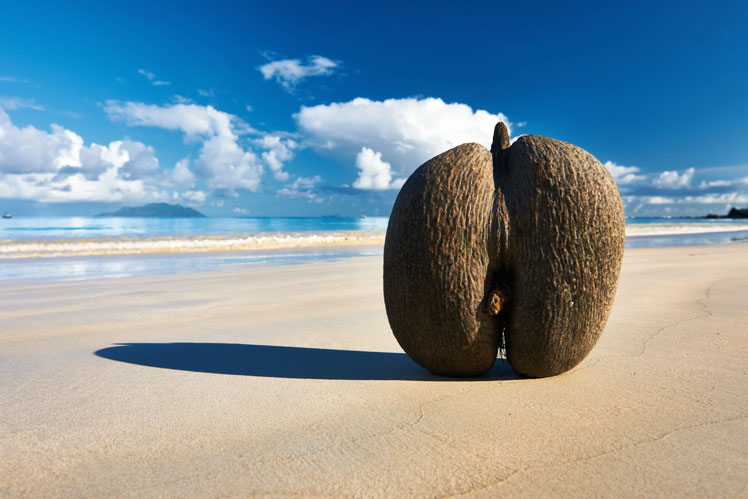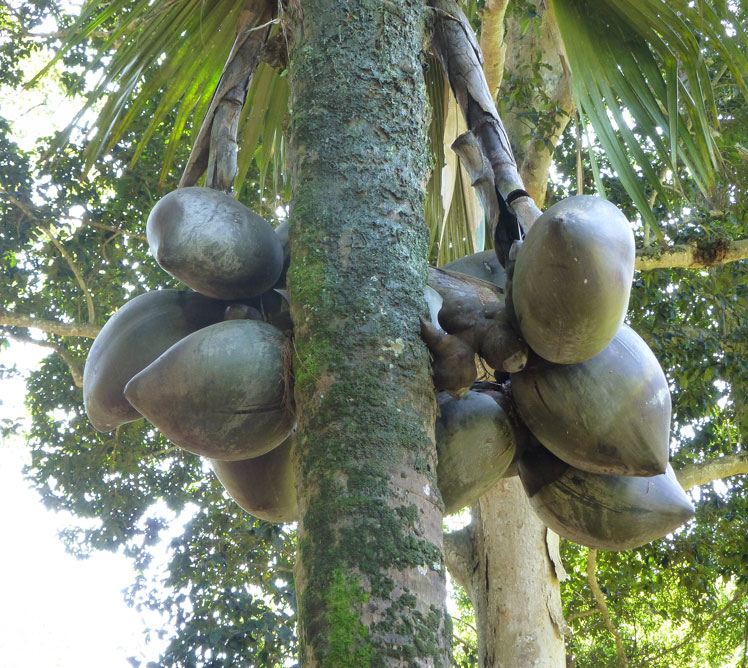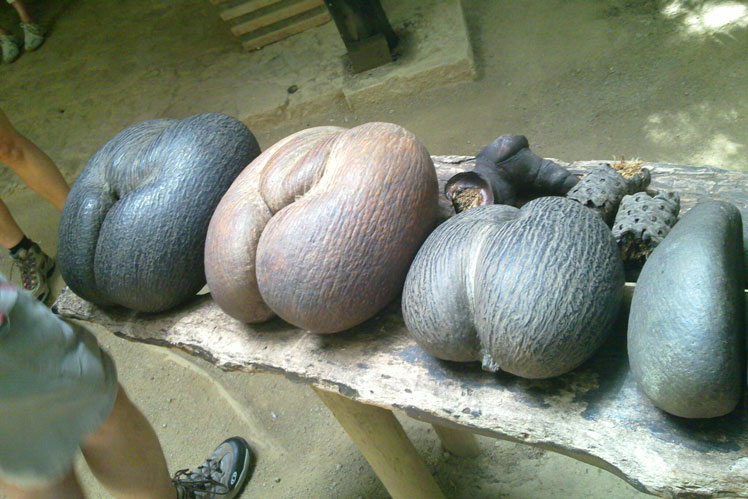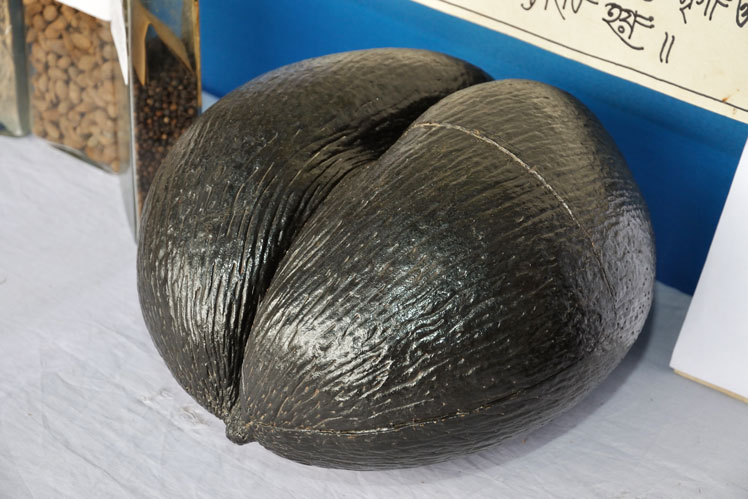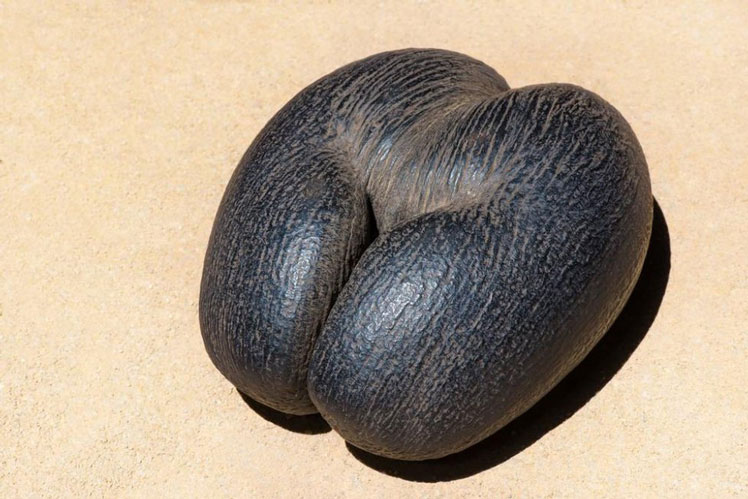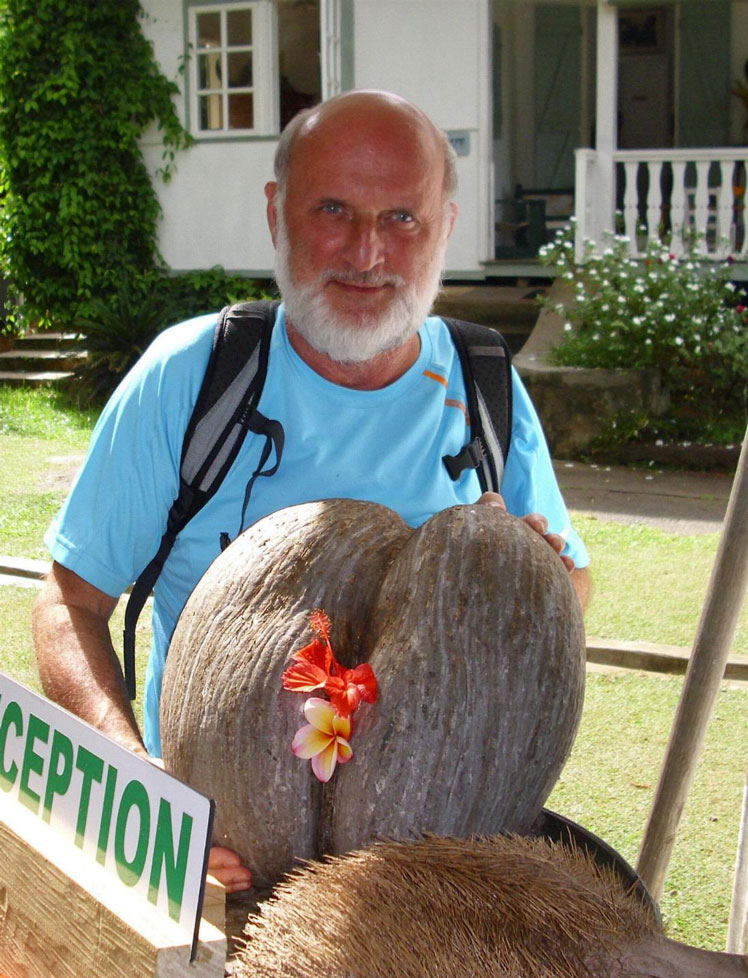 Lodoicea (or Seychelles palm) is a tall, slowly growing palm tree 25–34 meters high. She is the only representative of her genus, which is called Lodoicea maldivica. This relic species is found on hillsides and in valleys on two ancient granite islands – Praslin and Curieuse in the Seychelles archipelago.
The places where the Seychelles palm grows are declared nature reserves. The Seychelles palm has the largest seeds of any plant.
Lodoicea is even depicted on the coat of arms of the Seychelles.
The plants themselves – palm trees – have a very strong root system, thanks to which they live for centuries. The palm tree begins to bear fruit at the age of 100 years, but no one knows its age limit; some claim that she lives to be 800 years old. Up to 30 nuts are tied in a palm tree at the same time.
A large lodoitia fruit, which is called sea coconut (Coco de Mer), has a mass of 13–18 kg (sometimes reaching 25 kg). This is the largest seed on the planet! The fruits ripen for a very long time – from 7 to 10 years.
Interesting fact! Some fruits of the Seychelles palm grow unrealistically large. They have 2 or sometimes 3 seeds and reach a mass of over 45 kg.
The fruit of the Seychelles palm is similar in structure to a coconut. Its "bone" is covered on the outside with a fibrous cover up to 3 centimeters thick. After ripening, the nut falls.
Lodoicea is widely used among the local population. From the hard peel they make dishes, kitchen utensils and the like. The leaves are used for basketry and roofing for huts.
The fruit is also used in Siddha medicine, Ayurvedic medicine as well as traditional Chinese medicine. In food, it is commonly used as flavor enhancers for soups in southern Chinese cuisine, namely Cantonese cuisine.
Seychellois palm seeds have been highly prized for centuries, and their rarity has generated great interest and high prices in royal courts.
The pulp of the fruit is a delicacy. From the white-pink juice of young nuts, they make an original and expensive cocktail (in some restaurants up to $ 20-30 per glass), which has stimulating properties.
Corresponds to the price of the cocktail and the coconut itself. You can't officially buy it for less than $300.
Cocoon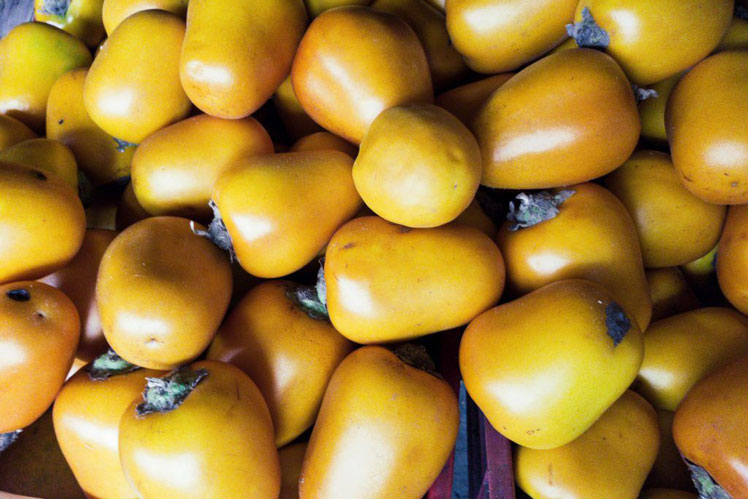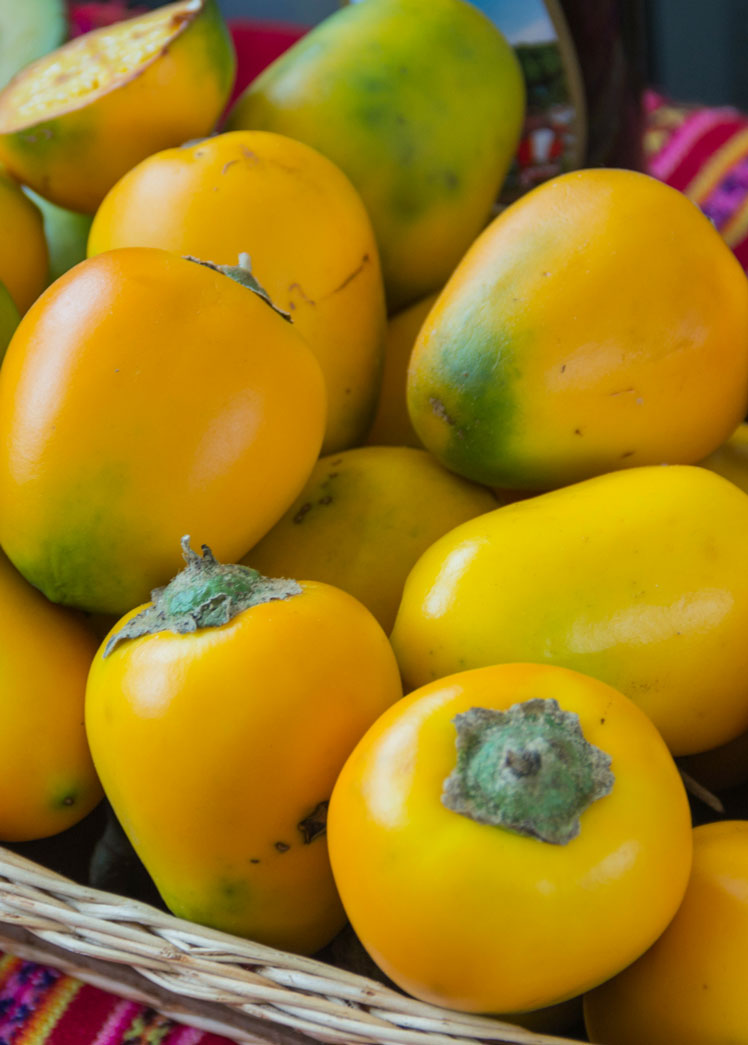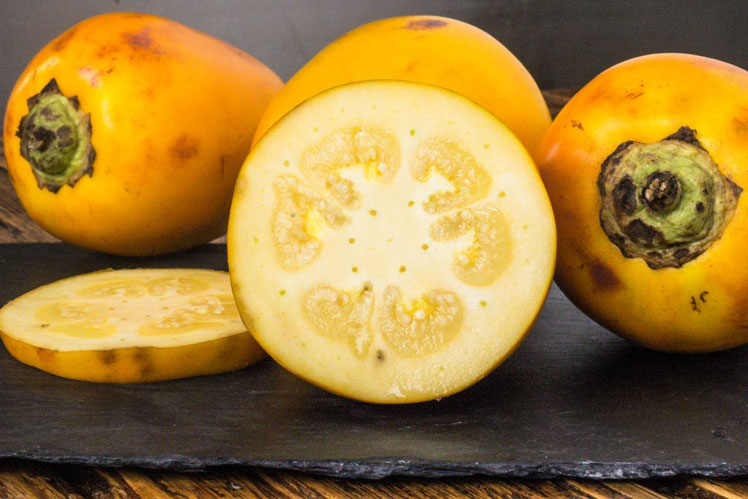 Cocoon – is a herbaceous shrub up to 2 meters high. It comes from the Amazonian part of South America. Currently cultivated in Colombia, Venezuela, Peru, Brazil and other Latin American countries.
Fruit cocoons have a round or oval shape up to 4 cm in length and up to 6 cm in width. Unripe fruits have a thin skin covered with fluff, when ripe they become smooth and turn yellow, orange or red.
Under the bitter skin is a thin layer of dense creamy pulp. Inside contains a yellow jelly-like core with numerous small flat seeds.
The peeled cocoons are edible fresh. They are used in salads and sauces. Marmalade, jams, jellies and juices are made from them.
Dacryodes edible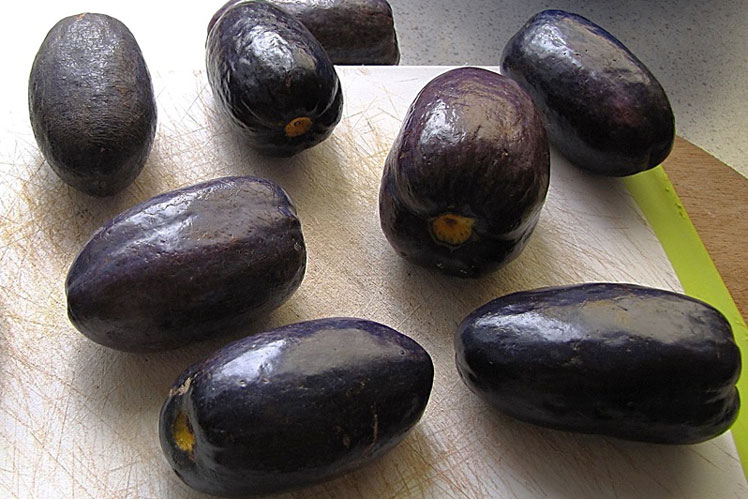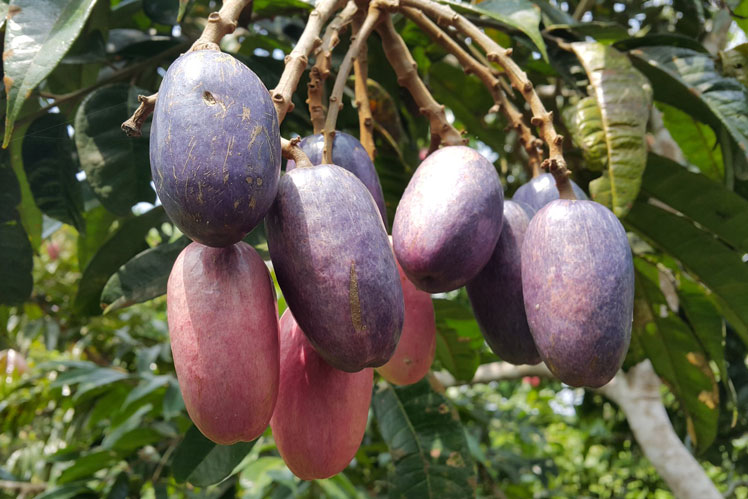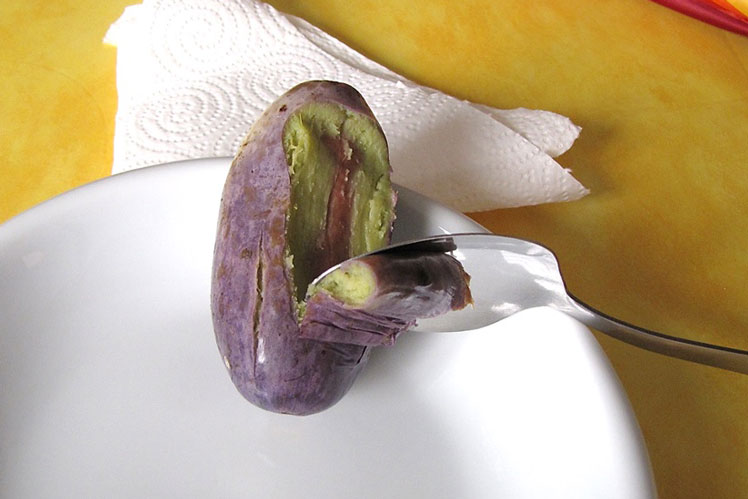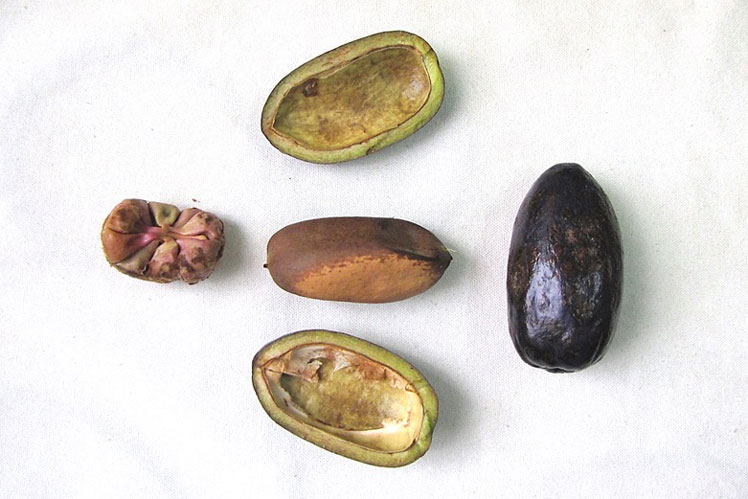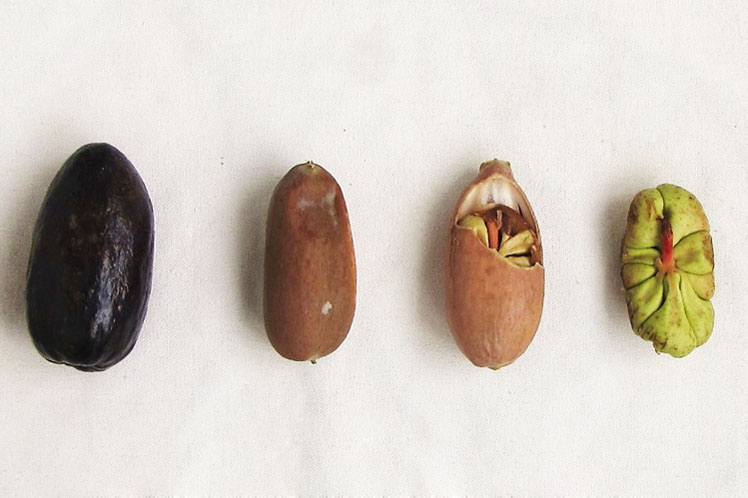 Dacryodes edible is a fruit tree that grows in the humid equatorial forests of tropical Africa. It is sometimes called safu (in Cameroon), atanga (in Gabon), ube (in Nigeria), African or bush pear or plum, nsafu.
Dacryodes edible is found both wild and cultivated from Angola in the south to Niger in the north, from Sierra Leone in the west to Uganda in the east. It is also introduced and cultivated in Malaysia. In forests, trees grow 18–40 meters high, on plantations – no higher than 12 meters.
The tree flowers at the beginning of the rainy season and bears fruit 2-5 months after flowering. The fruit is an ellipsoidal drupe 4–12 cm long. The skin of the fruit is dark blue or purple, and the flesh is pale to light green.
The fruits of dacryodes are edible, they are consumed raw, boiled and fried. The boiled pulp of the fruit has a structure similar to butter, and contains 48% fat, and is also rich in vitamins. The kernels can be used as forage for goats and sheep.
Capotroshi brazilinsis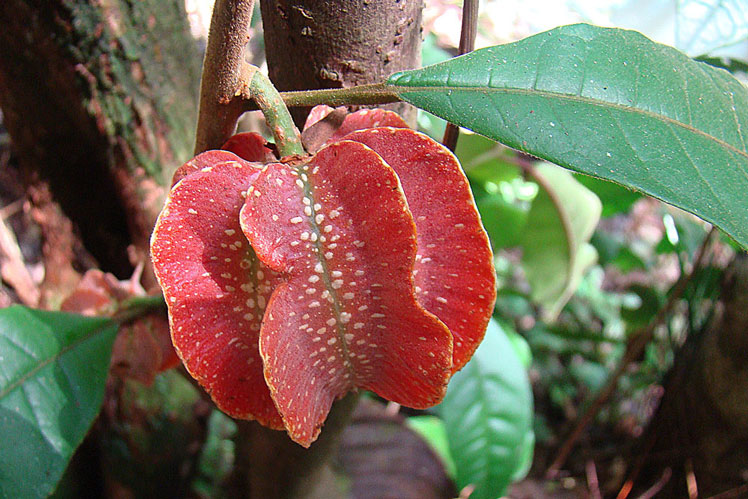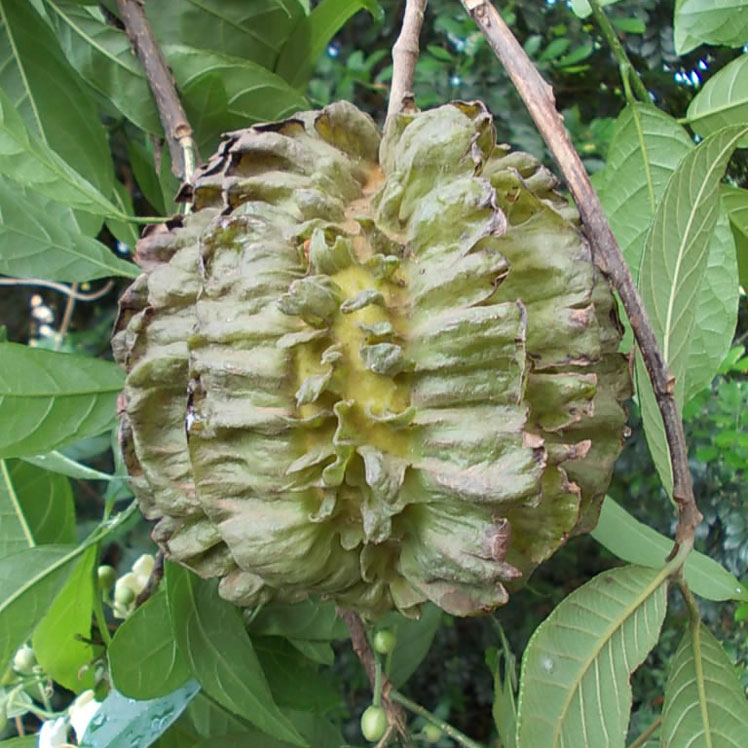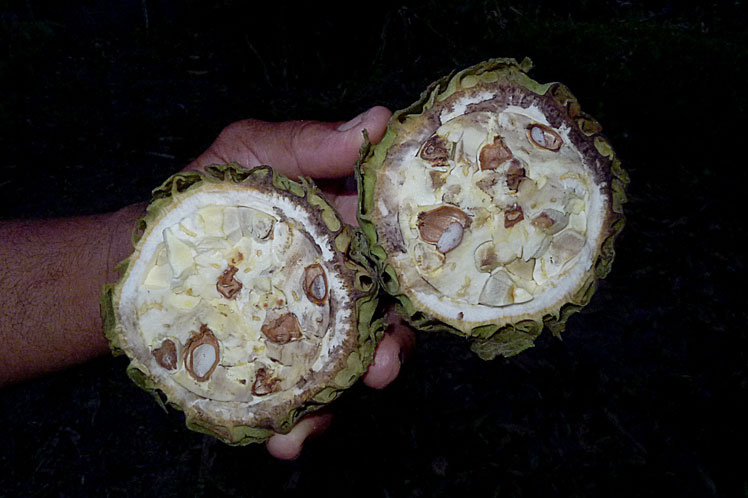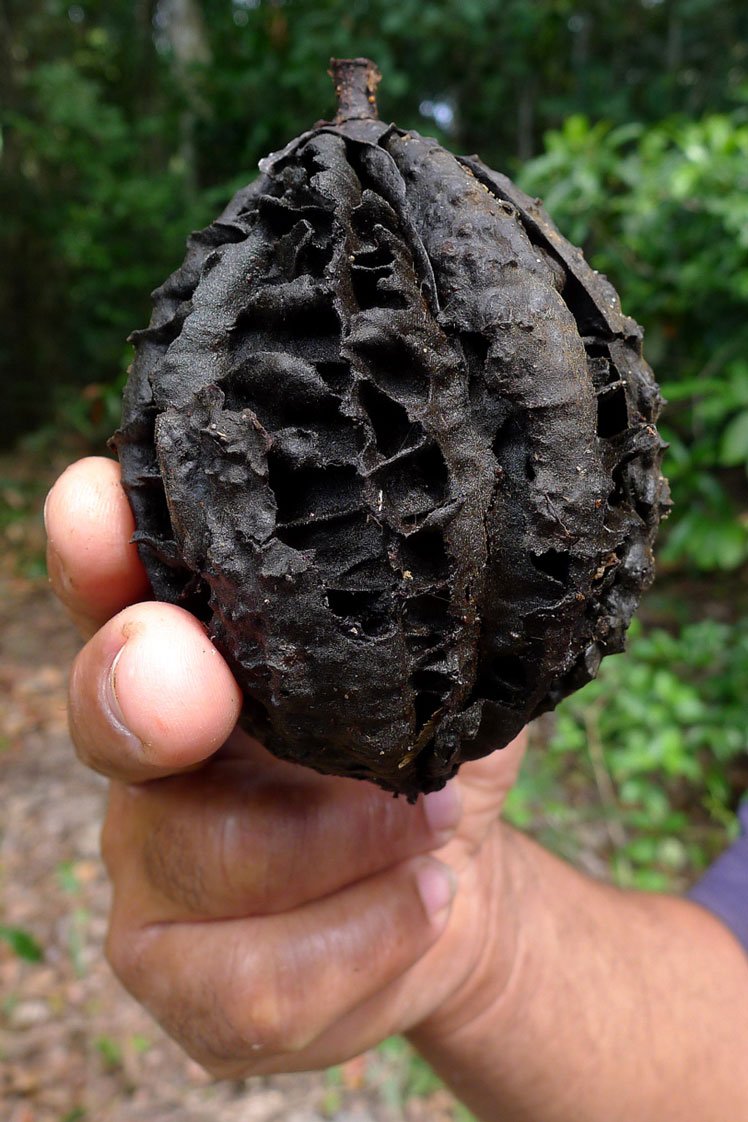 Carpotroche brasiliensis is a medium to large tree that can reach a height of 5 to 20 meters. It originates from the Atlantic Forest of Brazil, and its geographical distribution covers the states of Espirito Santo, Minas Gerais, Bahia, Rio de Janeiro and Sao Paulo.
Its fruits are round and "fleshy", reaching a large size. There is a kind of "fringe" on the shell.
The fruits are harvested directly from the tree when spontaneous fall begins, but can also be collected on the ground after they have fallen. Manually remove all seeds by separating them from the surrounding pulp. Each fruit contains 80 to 120 seeds.
Carpotroche brasiliensis can be used in urban and ornamental tree plantings for its beauty, especially the flowers. Its fruits are highly valued by many animals as they have a unique appearance. Fruits are highly valued by larks and monkeys.
The oil obtained from the seeds of carpotroche brasiliensis was widely used in the fight against leprosy in the twentieth century. This oil is known as "chalmugra oil". This oil has been used since ancient times, mainly in India, Indo-China, Malaysia and Africa for the treatment of leprosy and dermatoses.
Preliminary studies state that the oil isolated from carpotroche brasiliensis has insecticidal and parasiticidal properties, effectively combating dandruff, lice and herpetic manifestations. These oils were the main medicine used to treat leprosy until the advent of sulfa drugs in the 1940s.