It would seem that the health benefits of active sports are undeniable. However, American scientists warn that before starting classes, representatives of the strong half of humanity should think carefully. As a result of research, it was found that regular endurance exercise can help reduce the content of the male sex hormone in the body Testosterone.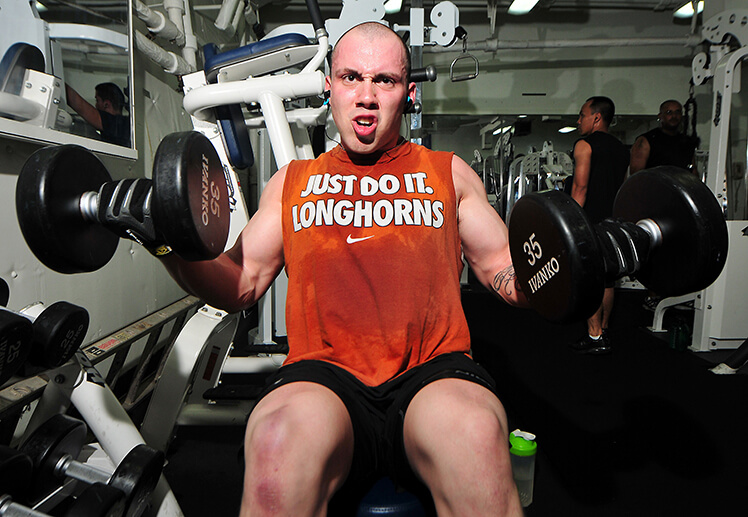 According to American scientists, the level of this hormone in intensely trained men is only about 60-85% of the testosterone level in those who prefer moderate exercise. According to the results of a number of studies, active sports can negatively affect a man's fertility due to a decrease in sperm production. It is also noted that the lack of testosterone in the body leads to a decrease in sexual desire.
However, other scientists – German – have also identified the positive side of the deficiency of this hormone. It turns out that low testosterone promotes the production of high-density lipoprotein – the so-called "good" cholesterol, which protects the coronary arteries from fatty deposits that cause clogging of blood vessels and, ultimately, heart attacks.
At present, little has been studied what else (other than a decrease in sexual desire) leads to a decrease in the content of testosterone in the male body as a result of active physical exercise. Studies have shown, for example, that runners maintain low levels of this hormone even during rest. It is possible that this is a sign of "overtraining". There is no exact data yet on how long it takes for testosterone levels to drop in the body. Some scientists suggest that a month to six months of intensive sports may be enough to start this process. Therefore, it is advisable for men to think about whether to continue active sports or be a little more moderate.
Among men who want to have a good figure, simulators are also popular. However, some of them need to be treated with caution. For example, if we talk about exercise bikes, then they really give a certain physical activity and, perhaps, can help to lose weight to some extent. But men, before climbing on this unit, you should think about this. By pedaling, you not only burn calories, but with all your considerable weight (and you probably have a lot of it, since you climbed the "iron horse"), you press your most tender and unprotected place into the saddle. Scientists have calculated that a person weighing 80 kilograms, pedaling at a speed of 30 kilometers per hour, presses on his scrotum with a force equal to 250 kilograms. As a result, the blood vessels cease to cope with their direct duties – to supply blood to the right place. It's not far from failures in bed.
It is also interesting that not only exercise bikes can lead to impotence, but also inept cycling. American doctors came to this conclusion. They believe that squeezing the saddle of the blood vessels can lead to a weakening of male power. According to Boston physician Idwin Goldstein, a cyclist should also protect himself from injury. He calculated that in an "accident" at a speed of 30 kilometers per hour, a 70-kilogram man could be hit by a frame between his legs with a force of 250 kilograms.
And German scientists examined more than a thousand cyclists and concluded that cyclists often develop impotence. Many cyclists themselves note that with frequent use of this transport, they periodically experience a feeling of numbness in the genital area, which indicates a violation of the blood supply to the genitals, their malnutrition.
In this regard, scientists advise men who love cycling not only to choose a comfortable seat, but to redistribute the load on their legs and ride on one leg for a short time every 10 minutes.
All of the above does not mean at all that in order to be sexually active, you need to forget about sports. Quite the contrary, scientific studies show that people who do not play sports, lead a sedentary lifestyle, are more at risk of falling into the ranks of impotent, they have a much higher incidence of various diseases of the pelvic organs.
Moderate sports and exercise, as opposed to intense sports or a sedentary lifestyle, help maintain sexual activity at a high level. The main thing is to know the measure!