The fauna of our planet will never cease to amaze us with the presence of amazing creatures of the most unusual shapes and colors. Some of them are so whimsical that it seems that nature created them in a playful mood. We present to your attention some of the most amazing, unusual and little-known creatures from different parts of the globe.
Ghost crab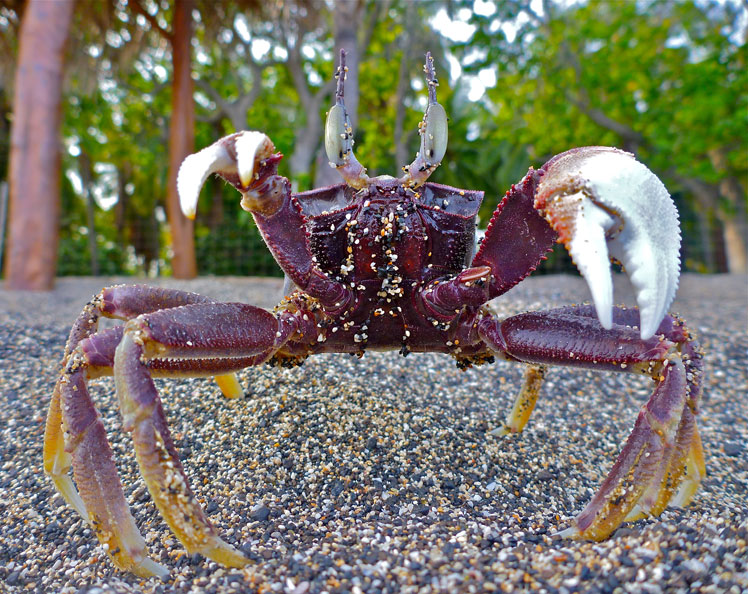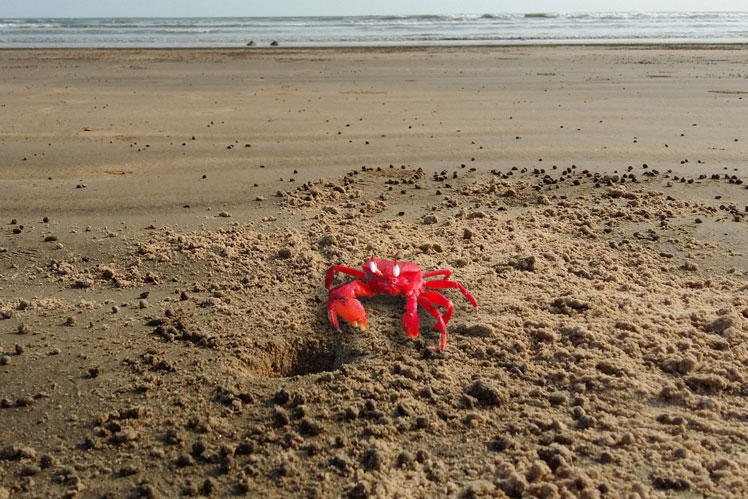 Ghost crabs are semi-terrestrial crabs that inhabit deep intertidal burrows in tropical and subtropical regions around the world. The name "ghost crab" comes from their nocturnal life, and the fact that most ghost crabs have a pale body color that blends well with the sand, although they are able to gradually change body color according to the environment and time of day. Ghost crabs have one claw larger than the other, as well as unusually thick and elongated eyes.
Ghost crabs dig deep burrows near the intertidal zone of open sandy beaches. They are generalist scavengers (scavenging carrion and debris) and also prey on small animals, including eggs of sea turtles and hatchlings, clams and other crabs. Ghost crabs are predominantly nocturnal creatures, staying in their burrows during the hottest part of the day and during the coldest part of winter.
Ghost crabs are fast runners, dashing to the side at the slightest sign of danger. They either return to their burrows or dive into the sea to escape intruders.
Interesting fact

Ghost crabs can change their body color to match their environment by adjusting the concentration and dispersion of pigments in their chromatophores. They may even match certain colors of grains of sand in their habitat.
Banks' mourning cockatoo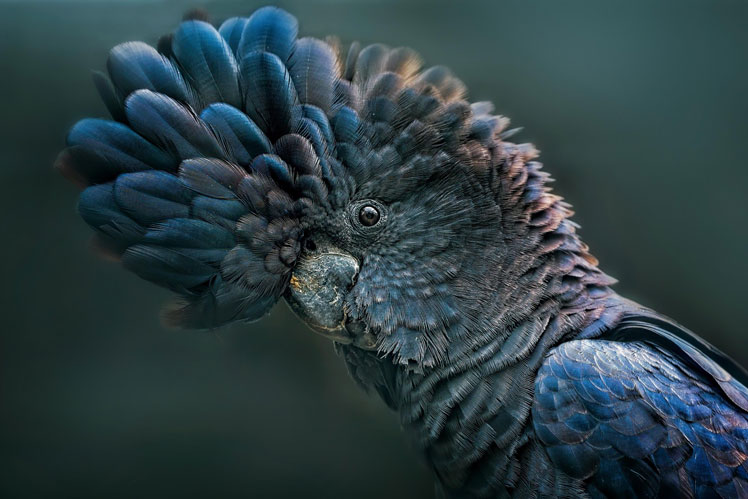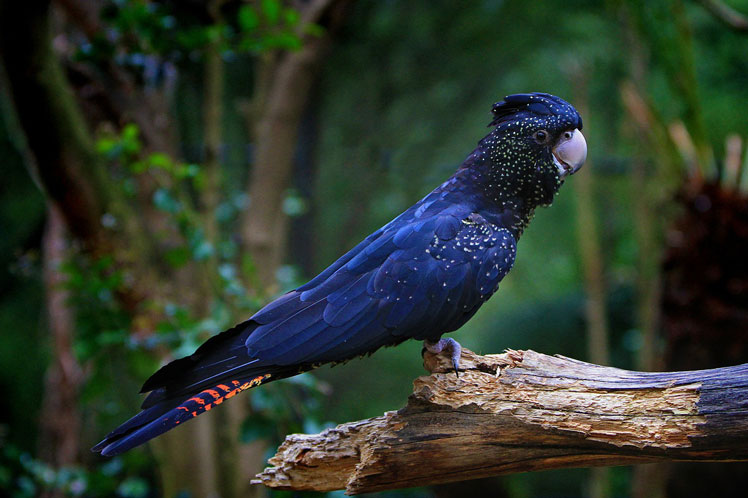 Banks' mourning cockatoo is one of the earliest birds described by Europeans on the Australian continent, named after the English naturalist Sir Joseph Banks (1743–1820), who accompanied James Cook on his first trip around the world. The bird is notable for the fact that a crest is developed on its head, which it raises in an excited state.
Banks' mourning cockatoo is distinguished by its predominantly black plumage color. The male has tail feathers with a wide red stripe in the middle, the female has a large number of yellow-orange specks on the head, neck and wings, as well as a pale yellow fringe in the upper part of the belly.
Experts identify 5 subspecies of Banks' mourning cockatoo, differing from each other in overall size and shape of the beak. In addition, each of the subspecies lives in biotopes characteristic only for it, which is reflected primarily in feeding habits. The body length of one of the largest species of cockatoo is 50-65 cm, weight – 570-870 g.
As mentioned above, these birds live in Australia, inhabiting a variety of tree landscapes, including various types of eucalyptus forests, woodlands, shrubs, savannahs. They are kept in pairs or groups, the number of individuals in which varies from a few to several hundred. They feed on seeds, nuts, juicy fruits, insects and their larvae. In the north of the range, they are persecuted by farmers who consider these birds an agricultural pest.
The natural population of Banks' mourning cockatoos is gradually decreasing, some subspecies are in danger of extinction. International trade and keeping of the bird is limited by a number of legislative acts – this reason, as well as the special requirements for keeping and the sterility of many captive-bred males, makes the bird a rare pet. Currently, it is one of the rarest and most expensive birds kept in captivity.
White kangaroo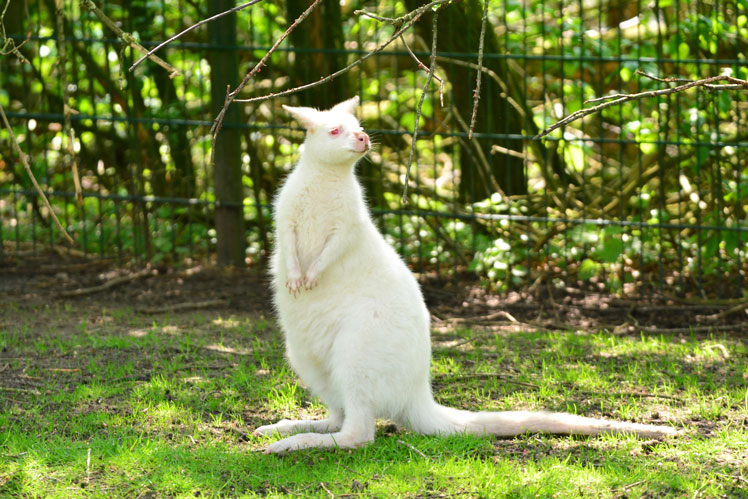 The white kangaroo is a very rare species of kangaroo, in fact it is an albino kangaroo. In captivity, such cases have not been seen, however, in recent years, some zoos have begun to report the appearance of an unusual baby of a rare white color in an ordinary pair of kangaroos.
So, for example, a whole family of albino kangaroos (mother Kimberly, 2-year-old baby Melbourne, and newborn Canberra) live in the zoo of the Austrian city of Kernhof, which are the main attraction and pride of the zoo.
The birth of animals with a congenital absence of skin and coat pigmentation is a very rare phenomenon. And the birth of albinos in captivity can generally be called a unique phenomenon. As a rule, these animals are less viable, so they are under special care in zoos.
Dye dart frog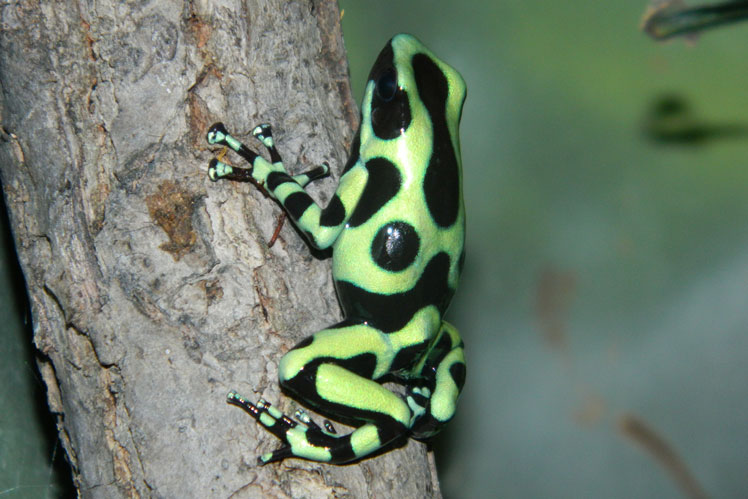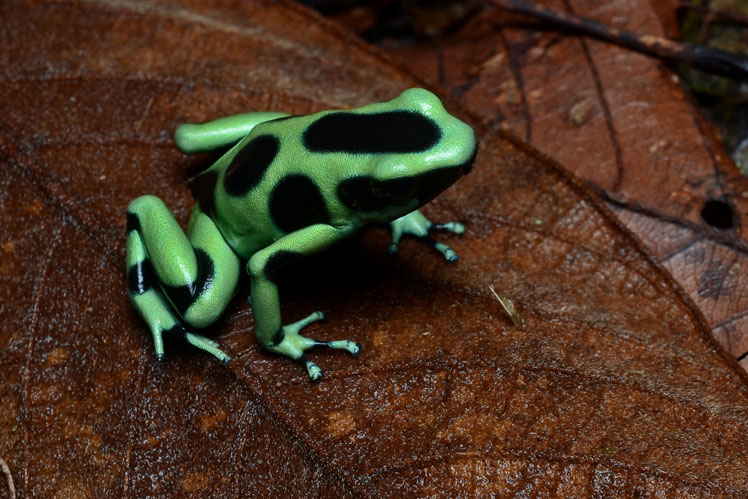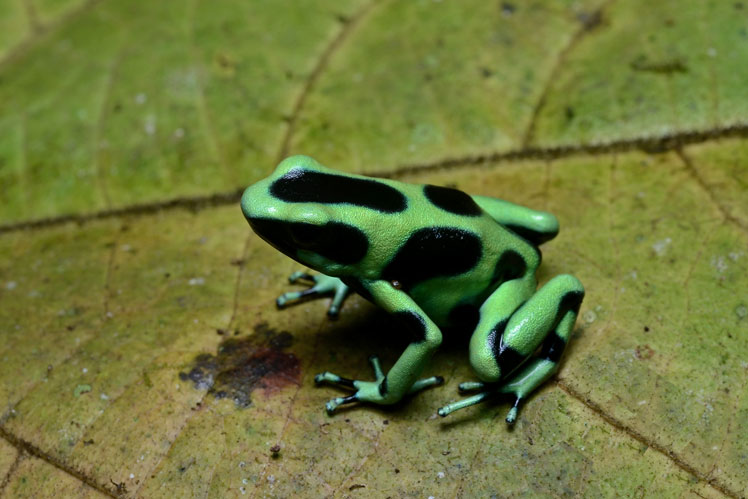 Coloring dart frogs are colorful frogs with spots that form a bizarre pattern on the back and upper side of the limbs. The base color of the frogs is usually black, but can be brown or bronze green, and the spots can be dark or light green, bluish green, silvery gray, bronze, blue, coffee or almost white. There are almost black and white individuals with a very small proportion of green.
This type of poison dart frog is common in the south of Nicaragua, in Costa Rica, Panama, Colombia. The length of frogs reaches 2,5–4,2 cm, females are larger than males.
The coloring poison dart frog loves the mountain rainforests, practically not climbing down from the trees for most of its life. Unable to jump from tree to tree, so he descends to the ground and moves to another tree. It feeds mainly on ants and other invertebrates.
Interesting fact

The coloring dart frog primarily eats poisonous insects, due to which poison is formed and accumulated in the skin. In turn, poisonous snakes hunt this frog, in which the poison of these poison dart frogs accumulates.
Portuguese boat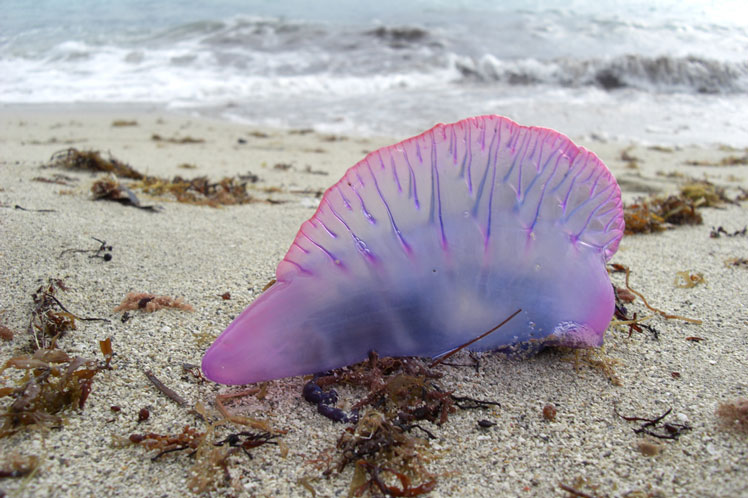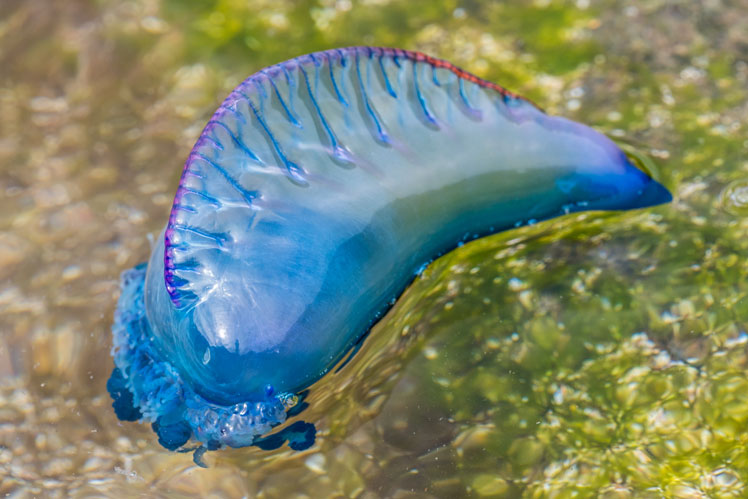 The Portuguese boat (or physalia) is an oceanic free-floating creature like a jellyfish, which has a large transparent bubble, the size of which reaches 30 cm. This bubble is filled with gas and keeps the physalia on the surface of the water. The trapping tentacles of representatives of this species carry a huge number of stinging cells, the poison of which is dangerous for humans.
Physalia is common in all tropical and subtropical seas and in the warm waters of the open ocean; it consists of several types of polyps.
Horizontal movement of physalia in water is possible only under the influence of external forces – wind and water current. Portuguese boats feed mainly on fish larvae, as well as small fish and small squid.
The Portuguese man-of-war is a creature potentially dangerous to humans: several deaths are known due to a strong defeat by its stinging tentacles. For example, in Australia every summer 10 thousand people suffer from its bites. However, usually even powerful close contact with him does not lead to consequences more serious than severe pain.
According to some data, wetting the affected skin with a 3–5% solution of vinegar helps with burns of physalia, which prevents the stinging cells remaining in the wound from triggering. In no case should you try to wash off the poison with fresh water, because of this, whole stinging cells with poison are destroyed, and the pain increases dramatically. If the poison gets into the eyes or the pain does not go away within a few minutes, you should see a doctor.
According to another point of view, the use of vinegar on burns received from contact with the Portuguese man-of-war is not recommended. Vinegar is used for burns after contact with jellyfish, while the poison of the Portuguese boat is different. The stinging cells are destroyed instantly, making the vinegar ineffective. To relieve pain, it is recommended to wash the affected areas with hot (warm) sea water for a long time. You can then apply ice.
Rate the article and share on social networks