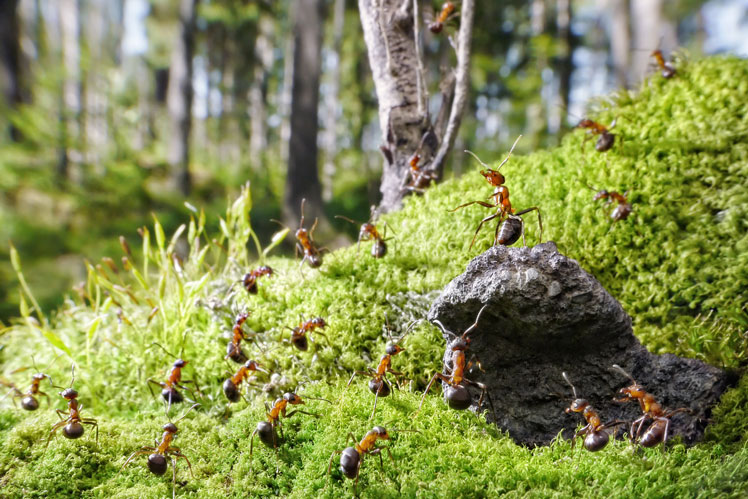 Ants are distributed throughout the world, except for Antarctica, Iceland, Greenland and some remote islands, forming 10–25% of the terrestrial biomass of terrestrial animals. The success of ants in many habitats is due to their social organization and ability to change habitat and use a variety of resources. Due to their wide distribution, abundance and well-marked nests, ants are universally known to people. Today we have prepared the most interesting information about them.
Everyone knows that ants live in families in nests called anthills, which are arranged in soil, wood, under stones; some build anthills from small plant particles, etc. However, few people know that there are parasitic species that live in the nests of other ants, or "slave-owner" ants that contain "slaves" – ants of other species in their nests. A number of species have adapted to living in human dwellings. Some species are valued for controlling insect pests, others may be considered pests.
The family of ants forms 3 castes (groups): females, males and workers. Females and males are winged, working individuals are wingless. Worker ants make up the vast majority of individuals in the ant family.
Ants feed mainly on plant sap, honeydew (i.e., sweet liquid) aphids and other sucking insects, and during the feeding period of larvae, mainly insects and other invertebrates. There are also species that feed on seeds (reaper ants) and cultivated fungi (leaf cutter ants).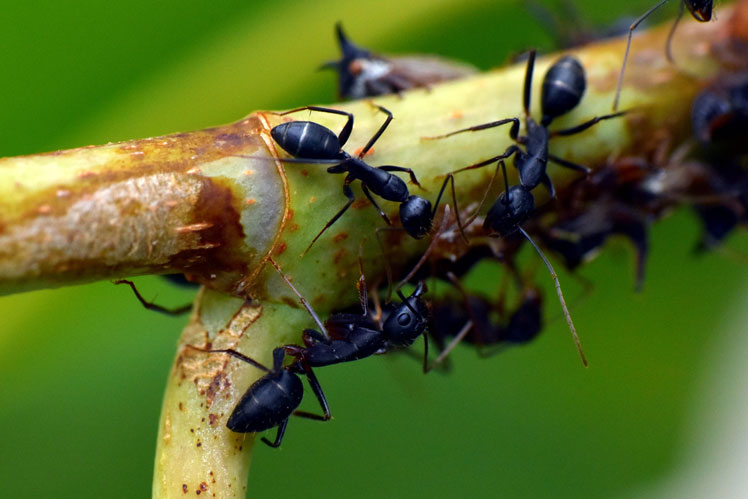 Interestingly, the largest brain compared to the size of the body is precisely in the ant. The brain of an ant is approximately 6% of the total body weight of an insect. If you apply the same proportions to a human head, it will become three times larger, and you and I will look like some kind of cyber mutants.
The average human brain weighs 1,6 kg, which is just over 2% of our body weight. The ant brain weighs approximately 0,3 mg. Even though the number of neurons in an ant's brain is only a tiny fraction of the number of neurons in a human brain, an ant colony is a true superorganism. An average-sized anthill of 40,000 individuals has about the same number of brain cells as a person.
Ants appeared 130 million years ago, and while we're being smart here, something like 10,000 trillion of these insects are prowling the earth. The total mass of all ants on the planet is slightly larger than the total mass of people.
There are approximately 14000 species of ants in the world. The difficulty of their classification is associated with two phenomena – the presence of twin species and hybrids. There are quite a few species that are practically indistinguishable in appearance. Thus, a species described by the anatomical features of a small number of individuals is often divided into two or more independent, reproductively isolated from each other. You can distinguish them from each other by genetic or enzymatic features. Conversely, two closely related species of ants, which are easily distinguishable by external features, often interbreed in places where they live together and give hybrid forms.
The number of ants is 1% of all insects on the planet. The total number of insects in the world is estimated at one quintillion (this is one followed by eighteen zeros).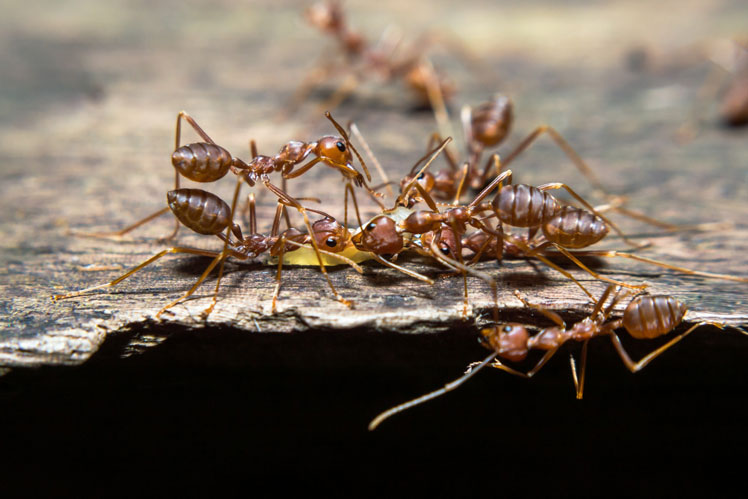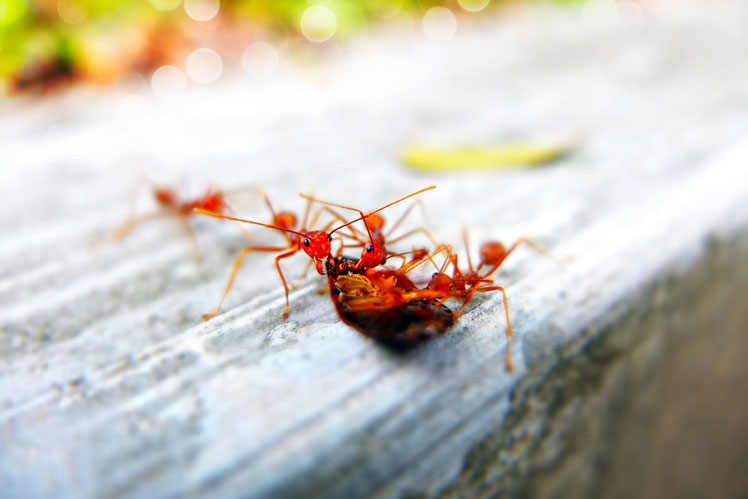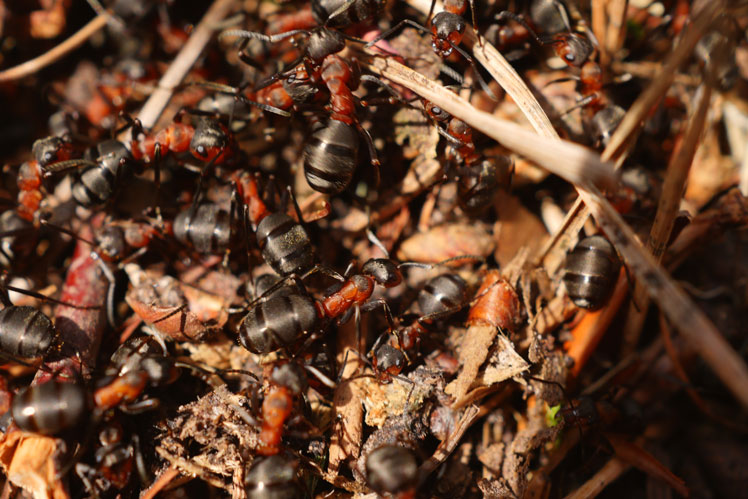 Ants form families ranging in size from a few dozen individuals to highly organized colonies consisting of millions of individuals and occupying large territories. Large families consist mainly of barren, wingless females, forming castes of workers, soldiers, or other specialized groups. Almost all families have males and one or more reproductive females called queens or queens. Families are sometimes referred to as a superorganism because the ants work as a unit.
Ants are the most evolutionarily advanced family of insects in terms of ethology, ecology and physiology. Their families are complex social groups with a division of labor and developed systems of communication and self-organization, allowing individuals to coordinate their actions when performing tasks that are beyond the power of one individual. Some species of ants have a developed "language" and are able to transmit complex information. In addition, many ant species maintain highly developed symbiotic relationships with other insects, fungi, bacteria, and plants.
The advantages provided by cooperation to ants have led to the fact that today they are the dominant group of arthropods in terms of numbers. So, on 1 km² of savannah in Côte d'Ivoire (Africa), almost 2 billion ants live, forming approximately 740,000 colonies. Together with termites (another large group of social insects), ants make up a third of the total biomass of terrestrial animals in the Amazon rainforest. Thus, with an average population density of 800 million ants and 100 million termites per square kilometer, they collectively weigh only half as much as all the other terrestrial animals in this rainforest. There are fewer of them in temperate regions.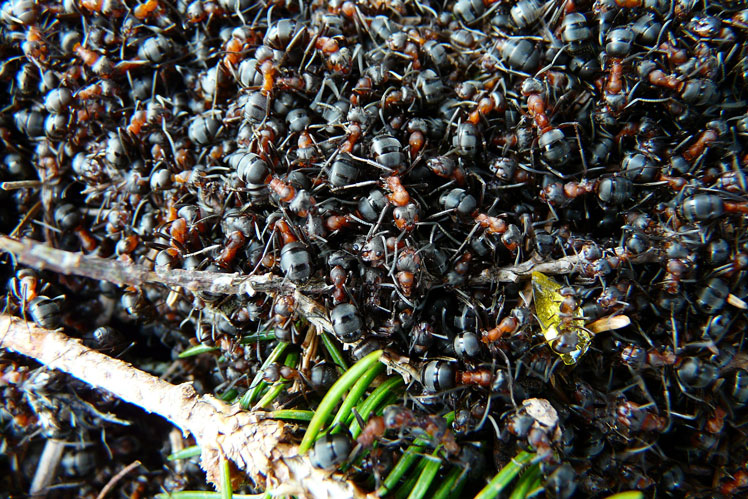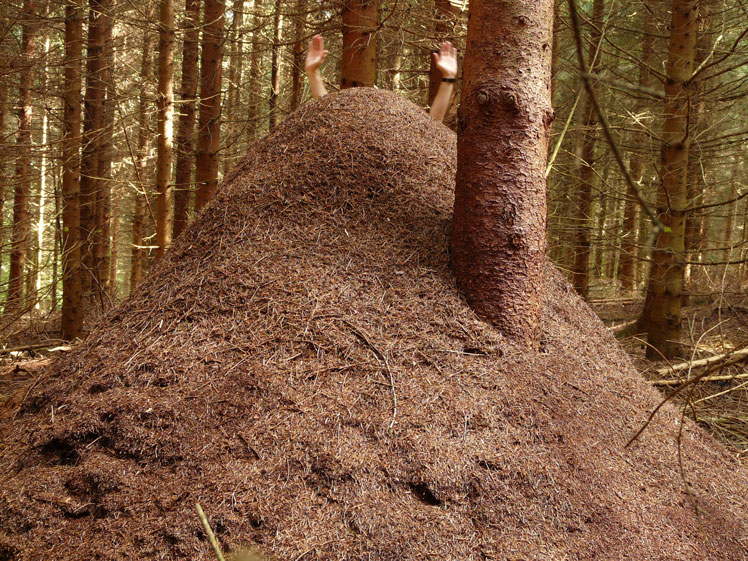 Huge anthill in the forest | pixabay.com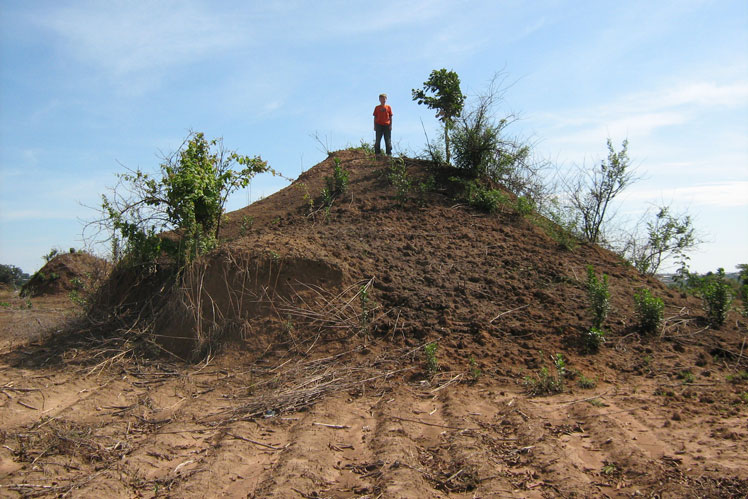 Giant anthill in Africa | pixabay.com
The ant sleeps only a few minutes a day and can survive underwater for 19 days. The forest red ant is able to do without a head for 24 days. However, alone, outside the colony, the ant cannot live – even with a head, even without.
Ant families can exist for a long period of time. The queen can live up to 20 years, working individuals live from several months to 3 years. Males, however, only live for a few weeks. Ant queens live 100 times longer than most solitary insects of a similar size. The ant record is 28 years for a Lasius niger queen kept in a laboratory nest. Under natural conditions, during the year, the population of the anthill is almost completely renewed.
Apparently, ants have a photographic memory that helps them navigate in space. They seem to take pictures of conspicuous objects of the surrounding area. Scientists still don't understand how an ant's tiny brain can store so much information.
Ants are not stronger than humans, as many people think. And although the ant is indeed capable of lifting a load many times its own weight, this is only because it is small. The smaller the animal, the stronger its muscles in relation to body weight. If people were the same size as ants, they would be just as strong.