The fauna of our planet will never cease to amaze us with the presence of amazing creatures of the most unusual shapes and colors. Some of them are so whimsical that it seems that nature created them in a playful mood. We present to your attention another selection of the most amazing, unusual, little-known or rare creatures from different parts of the globe.
Rabbit spider
Sometimes in the wild they find something completely amazing. For example, this strange spider, whose body resembles the head of a rabbit or a wolf (depending on what angle you look at). This unusual creature was filmed by scientist Andreas Kay in the Amazon rainforest in Ecuador.
In fact, this is not a spider, although it belongs to the class of arachnids, it belongs to a completely different order – haymakers. In English, a strange creature is called a "bunny harvestman" (bunny harvestman), and in a scientific way – Metagryne bicolumnata.
His real eyes are not bright yellow circles on his back, but shiny black balls on the nose of the "muzzle". Without scale, it seems like a real nightmare for an arachnophobe, but in fact its size does not exceed the size of a human finger. Despite their frightening appearance, all haymakers are harmless to humans, because they do not have poisonous glands.
Why the haymaker-rabbit has such an unusual black body – with protrusions that look like ears and fake yellow eyes, scientists still do not know for sure. Perhaps to appear bigger and scarier, because these tiny and defenseless arachnids have many enemies. "Ears" – chitinous bulges on the abdomen – have no functional significance from the point of view of physiology. Or maybe this appearance of the animal plays a role in sexual selection? All this is yet to be discovered.
Pig-nosed turtle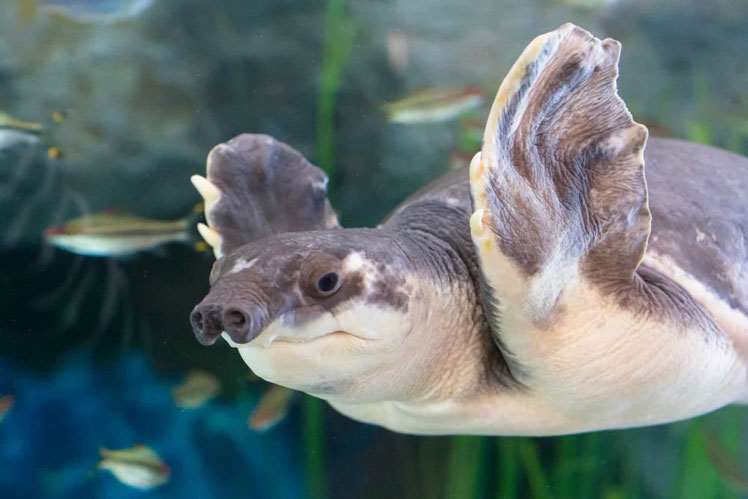 The pig-nosed turtle or Fly River turtle, also known as the pitted turtle, lives only in the freshwater lagoons and reservoirs of northern Australia and southern New Guinea. This tortoise is unlike any other species of freshwater tortoise in terms of its combination of features. Instead of legs like other freshwater turtle species, it has flippers like sea turtles. The nose is similar to that of a pig, with nostrils at the end of a fleshy muzzle, hence the name "pig-nosed".
Pig-nosed turtles can grow to around 70–75 cm in shell length and weigh over 20 kg. Each paw is equipped with a pair of claws, which is why they are also called two-clawed turtles.
Pig-nosed turtles are not completely aquatic. Little is known about their general behavior, as there has been little research in the wild. Their known extreme aggression in captivity suggests that the species is noticeably more territorial than most other turtles.
Brown panda
Brown panda, or Qinling panda (Qinling panda) is a subspecies giant panda, discovered in the 1960s but not recognized as a subspecies until 2005. Brown pandas are very rare. They differ from the more familiar giant panda in their smaller size, brown and light brown (rather than black and white) fur. Also, the brown panda's eye spots are under the lower eyelid, and not around the eyes like in the common panda.
According to some scientists, these animals owe their coloration to genetic mutations, as well as to the characteristics of the diet in natural habitats.
These rare pandas live only in the Qinling Mountains in western China, after which the animals got their name.
There are various data on the population size of this subspecies, according to experts, now no more than 300 individuals live in natural conditions.
Smallest pygmy squirrel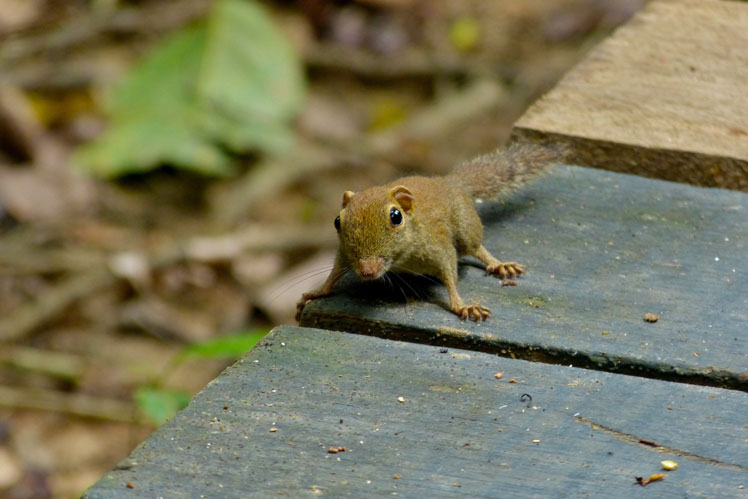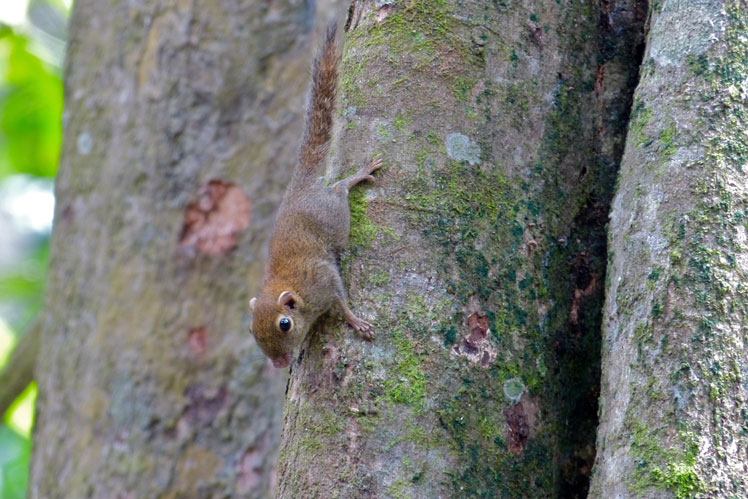 The smallest pygmy squirrel (least pygmy squirrel), also known as the common pygmy squirrel, along with the African pygmy squirrel, is the smallest squirrel in the world. Its body length is no more than 14 cm and it weighs less than 20 grams – this is less than an ordinary house mouse.
The smallest dwarf squirrel lives on the islands of Southeast Asia: Borneo, Sumatra and Bangui.
It feeds mainly on tree bark, moss, lichens, but occasionally insects to supplement its diet.
Flying frog
A flying frog is a frog capable of gliding, which is why it is also called a gliding frog (flying frog or gliding frog). That is, these frogs can jump from great heights and descend at an angle of less than 45° relative to the horizontal. Other (non-flying) tree frogs can also jump from tall trees, but only at an angle greater than 45°, which is called skydiving. What is the difference – clearly shown in the video below.
Flying frogs have evolved this ability to adapt their life in tall trees. The aerodynamic abilities of flying frogs give them the ability to escape from their main enemies – snakes. There are several types of flying frogs found in Southeast Asia and Madagascar.